As rumored, Fitzgeralds is about to become The D Las Vegas. @denvergambler, who has been ahead of everyone on The D name change uncovered this YouTube link, which has since gone private:

The currently empty YouTube channel hosting the video offers a little insight into the new name/theme. It seems "D" stands for "Detroit" and "Downtown."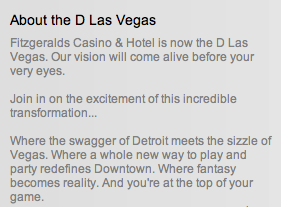 UPDATE: On a special edition of Five Hundy by Midnight, the Original Las Vegas Podcast, Derek Stevens, co-owner of The D Las Vegas, provided insight into the new name, the role of Detroit in the new concept, whether negative feedback regarding the new name matters, plans for the Vue Bar and the return of Sigma Derby. Hear the interview here.